This shop has been compensated by Collective Bias, Inc. and its advertiser.
All opinions are mine alone. #StockedWithLove #CollectiveBias
I love shopping for stocking stuffers because it is a chance to add a little creative touch into Christmas morning. I love to find a few gifts for my kids that aren't just toys because I think most moms can relate to the overflow of toys that don't end up getting played with regularly. I have found that a pack of homemade Holiday Coupons are a perfect stocking stuffer because for starters, it's cheap, but it also gives the gift of quality time with your kids. And kids think it is fun to redeem these coupons whenever they see fit.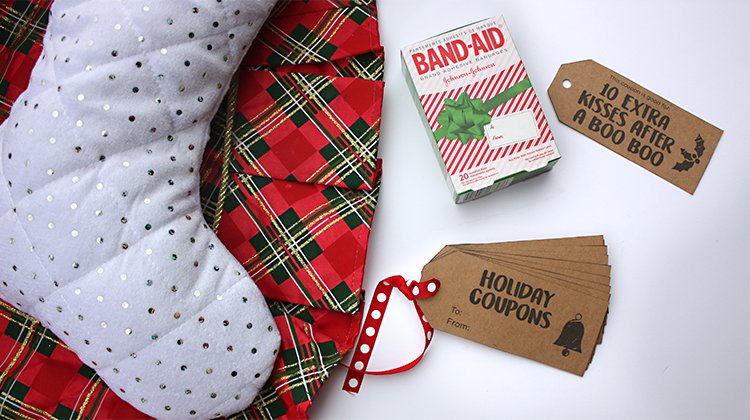 Hover over the image above to start shopping for your
BAND-AID® Brand Adhesive Bandage stocking stuffer
Items Needed:
Free Holiday Coupon Download (at the bottom of post)
Cardstock Paper
Scissors
Hole Punch
Ribbon
Start by printing the coupons on cardstock paper.  I found brown kraft paper at a craft store that looked good, but any color would work.  Next trim out each coupon with scissors following the thin outline.
Once all of the coupons are trimmed out use a hole punch to cut a hole on the left side of the coupon, centered in the middle.  Once you punch the first hole, use that coupon as a guide to punch the next hole.  This will ensure that the holes are all lined up and the coupons will stack together nicely.
Once all of the holes are punched through the coupons simply tie them all together with a piece of ribbon.
There are 10 different coupons included in the free download and even a blank coupon in case you want to make up your own.  My personal favorite is the "10 Extra Kisses After A Boo Boo" because right now my boys always run to me for hugs and kisses after an owie (I hope they do that forever).
For every little bump or stubbed toe they beg for a bandage, which I think is mostly because of the cool designs that BAND-AID® Brand Adhesive Bandages offers. So naturally I was really excited to find the BAND-AID® Brand Adhesive Bandage Holiday Collection in the Target seasonal department.
The BAND-AID® Brand Adhesive Bandage Holiday Collection is a great stocking stuffer for kids and goes perfectly with the "10 Extra Kisses After a Boo Boo" coupon. Paw Patrol and Star Wars BAND-AID® Brand Adhesive Bandages are also available at Target, which would also be a great addition to any kid's stocking. Visit this link to shop for your own stocking stuffers.
I obviously always have BAND-AID® Brand Adhesive Bandages available in my medicine cabinet but I also like giving them as a gift to my kids because I love how creative and imaginative they can be with them.
They like to keep a box in their doctor set because after all, BAND-AID® Brand Adhesive Bandages heals hurts faster and is the #1 doctor recommended brand.
Or sometimes I find teddy bears that must have needed a little medical attention.
And I never forget to throw some BAND-AID® Brand Adhesive Bandages in the diaper bag, because it is the worst being out of the house and not having a bandage when needed.
I hope you use the Holiday Coupon Book this year because it really is a fun and creative stocking stuffer that ensures you get a little extra time with your kid even after the holidays are over.
FREE HOLIDAY COUPON FOR KIDS DOWNLOAD
(If you like it, pin it!)